2012 Executive Eagle Award Winner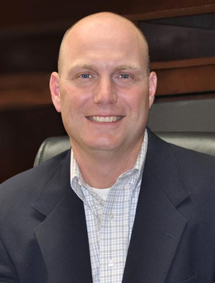 Robert E. Schroeder
Vice President and General Manager - Green Bay Packaging Inc.
Rob Schroeder began his professional career in sales with Willamette Industries after receiving a degree in Finance from the University of Texas, Arlington in 1995. Rob joined Green Bay Packaging in 1999 at the Tulsa Oklahoma Division. He was promoted to sales manager at the Fort Worth Texas Division in 2000. In 2008 Rob accepted the General Manager position at the Fort Worth Division. Rob's first challenge as General Manager was quite obvious; the division had a very high and increasing injury incident rate.
He realized that one of his first tasks was to change the existing culture and to create a partnering spirit with all employees to improve the division's safety program. He challenged the management team to improve methods, eliminate hazards and develop a safety minded work force. Rob's safety initiative has resulted in dramatic reductions in both lost time and recordable injuries. In 2013 he was promoted to Vice President/General Manager. Under Rob's leadership, the division has become a model for safety programs and awareness within Green Bay Packaging.