2012 Distinguished Service Award Winner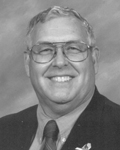 John Sunderland
Safety Compliance Manager - Buckeye Technologies
John is the Safety Compliance Manager for Buckeye Technologies, with headquarters in Memphis, Tennessee. His office is located at the Buckeye Florida operation in Perry. His direct involvement with safety programs began in 1990 when he established safety programs in sawmills and in cotton and wood fiber pulp mills. Prior to his roles in safety, he was part of the start-up teams for a pulp mill and a saw mill. He is an authorized trainer for OSHA 10 and 30-hour General Industry standards courses.
He is a past General Chairman of the Pulp & Paper Safety Association and is currently a Member of the PPSA Board, currently serving as Secretary/Treasurer.
He and his wife Beverly have two sons and daughters-in-law with four grandchildren. He has been a Boy Scouts of American Leader for 40 years and is a Silver Beaver Award Recipient. In addition to Scouting, his hobbies include motorcycling and general aviation.