2010 Eagle Award Winners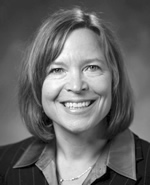 Judy Lassa, Senior Vice President, Paper and Specialty Products Boise Inc.
Judy Lassa is Senior Vice President, Paper and Specialty Products of Boise, Inc. Serving as vice president of Packaging since 2000 for Boise Cascade Corporation, Boise Cascade and Boise, Inc. She holds a B.S. (Paper Science and Engineering) from the University of Wisconsin-Stevens Point. In November 2010, Judy was promoted to the position of senior vice president and general manager of Paper and Specialty Products at Boise, Inc.
Judy's commitment to safety is exemplified by not only her support of Boise Packaging's safety management system as a business leader but also by her participation within that system. She has participated in various activities that range from the company's general safety conference to safety audits at specific locations within Boise.
Judy was the sponsor and champion for Boise Packaging's Safety as a Value team. This team annually sets safety initiatives for Boise Packaging and ensures delivery of those initiatives throughout the coming year. One example of the initiatives that Judy has supported is the Safety Management System Analysis. This is an analysis that each Boise Packaging location conducts
internally on a quarterly basis to determine what areas of their Safety Management System they
can improve. Then the analysis is used to communicate the opportunities for improvement to the location management so that appropriate resources may be put toward those opportunities.